Purchase CDs by Rawn Clark
---
Now Available!
The Magic of IHVH-ADNI
Audio Lessons
I wrote the original Attending the Unity article in February of 1998, but it wasn't until early March of 2002 that I began recording the audio Lessons in The Magic of IHVH-ADNI series. The final Lesson Nine was recorded on July 16th, 2003.

To quote the opening paragraph of Attending the Unity —
"This is the magic of combining IHVH with ADNI as I know it and practice it. I learned this magic from one whose Name will forever be unspoken. After 10 years of practice, I have been granted the words to tell you of this sacred magic. But instead of telling it as I learned it, I will tell it as I have come to understand it — I will tell it with my own words and in my own way."

The Magic of IHVH-ADNI ("TMO" for short) is focused around a Hebrew kabbalistic phrase which is spoken musically, almost in the manner of singing. It is "canted", so to speak, but in a magical way involving mental, astral and physical utterance. To this three-body speech is added the visualization of specific energy movements which occur in sync with the canticle.

With the nine Lessons of these three audio-CDs, I present a comprehensive course of instruction in TMO.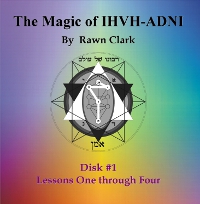 Disk One
Lesson One: Pronunciation, Tonality and Rhythm
Lesson Two: Three-Part Magical Speech
Lesson Three: Energetics
Lesson Four: Applications
$15.00 through CreateSpace.com or Amazon.com
---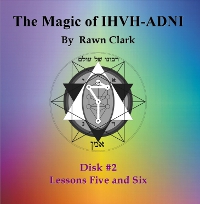 Disk Two


Lesson Five:
Creating a Triple Shield
Lesson Six:
Consciousness Raising
$15.00 through CreateSpace.com or Amazon.com
---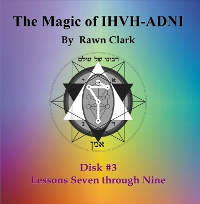 Disk Three
Lesson Seven: Setting the Tone of the Temporal Moment
Lesson Eight: Healing From Afar
Lesson Nine: The Blessing of IHVH-ADNI
$15.00 through CreateSpace.com or Amazon.com

---